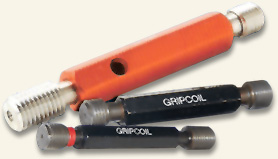 The Accuracy of the finished thread is highly dependant upon the accuracy of the tapped hole.
An insert when installed will reflect the exact geometry and fit of its tapped hole.
For this reason it is advisable to check the accuracy of tapped holes prior to the fitting of inserts.
A full range of double ended thread plug gauges are available for wire insert tapped holes and finished threads.
GRIPCOIL thread plug gauges conform with all national and international thread specifications and are fully calibrated with traceability to national standards as required.